A Great Solution To Promote Famous Beer Brands
We specialize in custom-branded fridges for Budweiser and other most famous beer brands in the world. It's a great solution for bars, franchise stores, convenience stores, and concession stands to serve beer and beverages.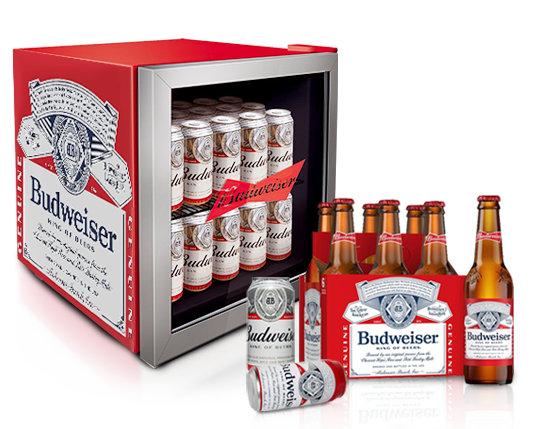 About Budweiser
Budweiser is a famous American brand of beer, which was first founded in 1876 by Anheuser-Busch. Today, Budweiser has its business with a significant market share, so it has become to be well known as "The King Of Beers", the reasons for the success ware not only just caused by the premium quality but also by the efforts on marketing promotions. In the past hundred years, Budweiser has always been a big official beer sponsor of many sports events, no matter it was big or small, professional or amateur, and they don't miss an opportunity to put their Logo on any sporting event. Even ducks swimming on the water have Budweiser logos on them.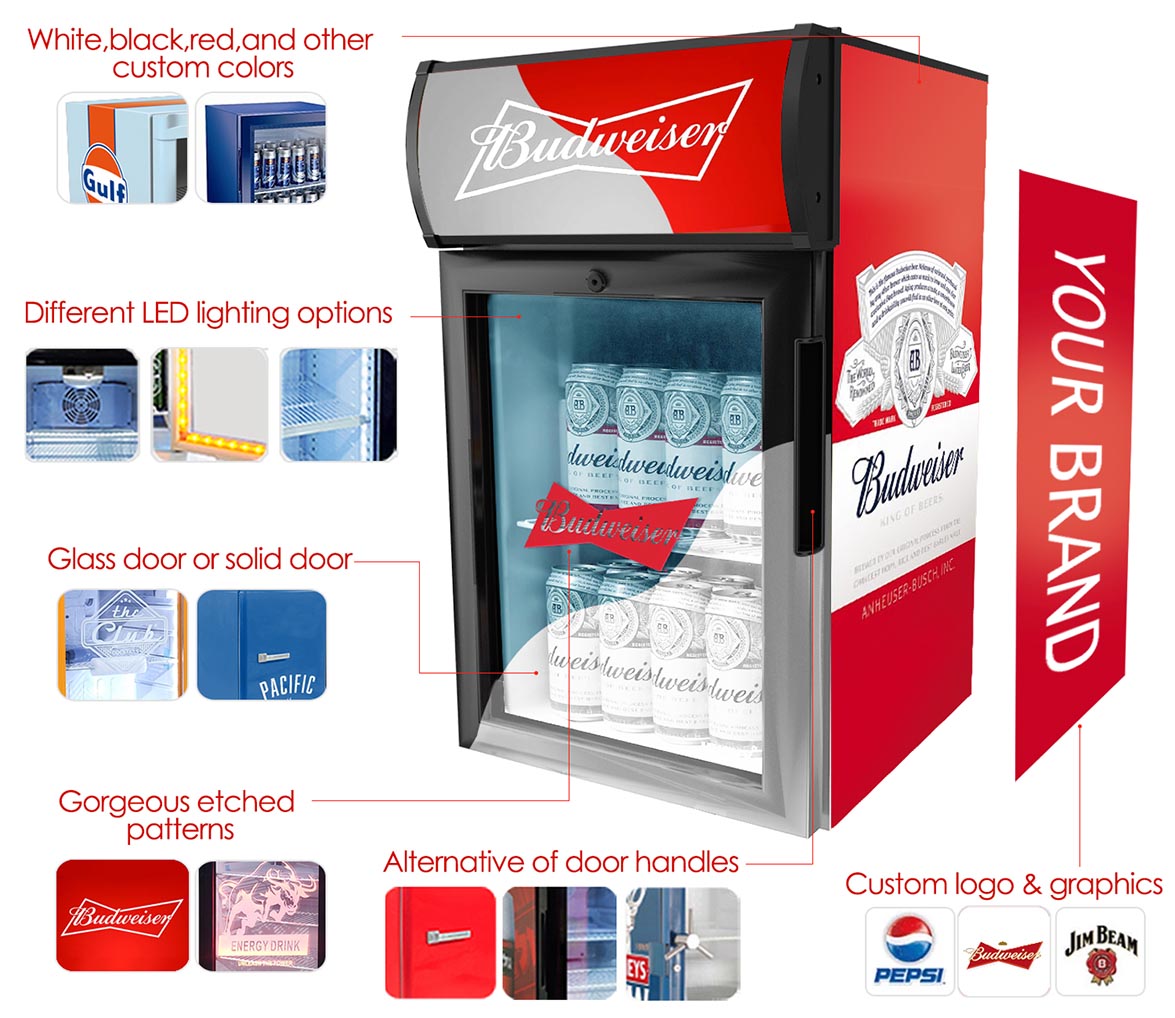 Branded Fridges – An Useful Way To Help Promote Budweiser Beer
Beer promotion is also a helpful manner for Budweiser's distributors or retailers to boost their sales. Even though Budweiser is a famous popular brand that is well known all over the world, but as resellers, we still need to make efforts to find out some special way to draw customer's eyes. One of the effective ways to increase brand awareness is to use commercial refrigerators with branded design, as beer should be stored and served in ice-cold condition to maintain its best taste and texture, consumers have to access to the refrigerated appliance to take the beer, so when it comes to using branded fridges (coolers) in promoting your beer, they are useful for far more than just keeping beverage cool.
What Types Of Branded Fridges Can Help Promote Your Budweiser Beer
You can see there are some models we have customized for some Budweiser distributors. You can have something special to present your personality, or you to meet your business requirement, or you want a custom design or some other parts or accessories that simply meet your specific requirements. At Nenwell, we can make branded beer fridges with your logo and artwork design, or even if you don't have anything ready to go, it doesn't matter, we have a design team to help you make it out.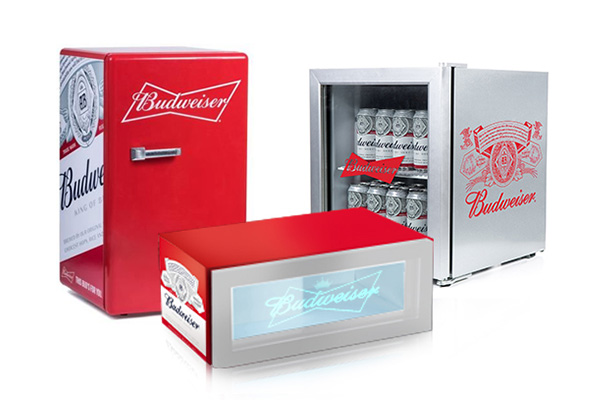 Countertop Mini Fridges (Coolers)
Different styles and capacities are available, these fridges with mini sizes are ideal to fit on the desk and counter for bars, convenience stores, or eateries with limited space.
The surfaces of the fridge and glass door are overlaid with fancy Budweiser's branding graphics to increase brand awareness.
Some models come with a lightbox on top to display Budweiser's logo and make the fridges look more stunning and attractive.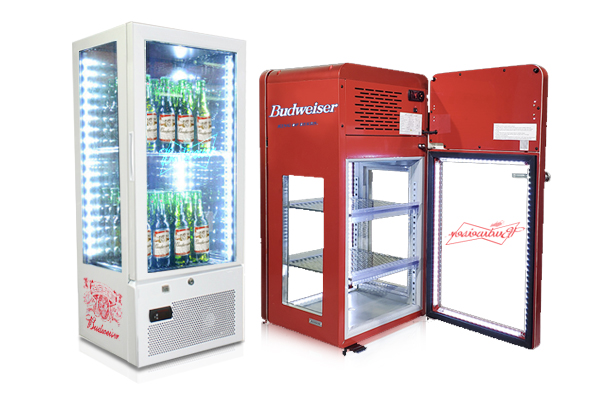 See-Though Fridges (Coolers)
4 sided glass allows clear visibility from all sides and provides a perfect display effect. Vertical LED strip at every 4 corners for illuminating the refrigerated items.
Countertop & freestanding styles are available, their compact sizes are space-efficient for convenience stores and snack bars with narrow space.
Small refrigerated merchandisers with elegant appearance and Budweiser's branding make these appliances look more attractive to maximize impulse buying.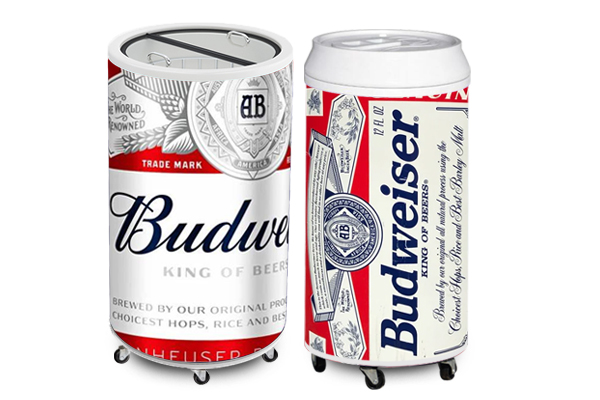 Barrel Fridges (Coolers)
These barrel coolers look stunning and as a beverage pop-top can, they are designed with casters that allow being flexibly moved anywhere.
They can keep your beer and beverage cold for several hours after unplugging, so they are ideal for outdoor parties, carnivals, B.B.Q., or sports events.
Glass door and solid door are available, they are designed with flip-flop opening design and allow two-side open. The storage basket with divided sections helps orderly organize the contents.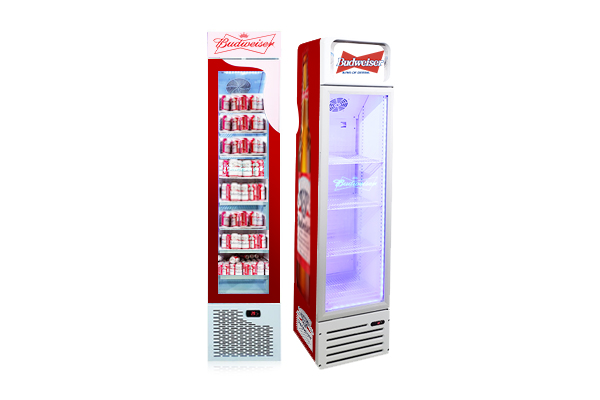 Slimline Display Fridges (Coolers)
Slim and tall design with significant capacity is excellent for retail and catering businesses with small spaces, such as bars, restaurants, convenience stores, etc.
Outstanding performance at refrigeration & thermal insulation helps these skinny fridges hold beer and beverage with constant temperature and optimal storage condition.
If put Budweiser's logo and branding graphics on these slimline fridges, that will make them more amazing and impressive to catch your customer's eyes.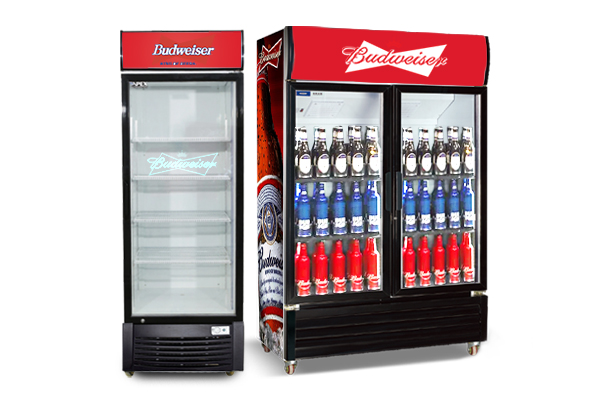 Upright Display Fridges (Coolers)
These upright display fridges have extensive options available to meet different needs, they are widely utilized as beer or beverage showcases for convenience stores, clubs, eateries, and so on.
Perform well at cooling and provide constant and optimum temperatures to maintain your beer and beverage with its optimal taste and texture.
Super clear insulated glass doors and premium LED interior lighting help display the cold drinks with highlight and attract consumer's attention.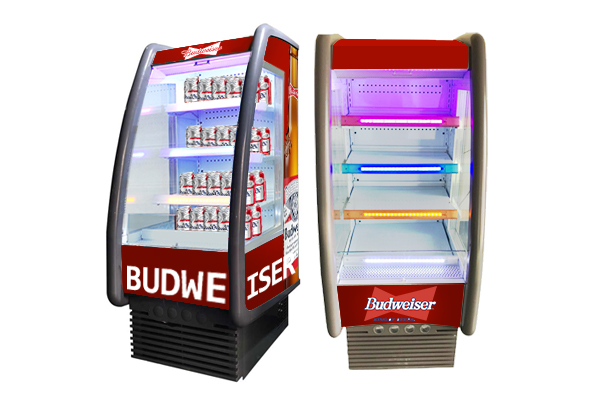 Grab & Go Air Curtain Fridges (Coolers)
These models come with an open front and air curtain design that provide a grab & go merchandising solution for catering service or retail stores with heavy foot traffic.
Perform well at refrigeration with high-speed cooling to ensure the store can restock beer frequently.
LED interior lighting provides high brightness to illuminate the items with the highlight, and colorful LED lighting strips are optional to improve these fridges with fancy touching.
Products & Solutions For Refrigerators And Freezers